Careers
At MedTrust
At MedTrust our team works every day to be excellent in everything we do. Below you will find the steps to becoming a member of our team. Let's explore the possibilities.
Working At MedTrust
Not Just A Job
Live Where Others Vacation
State of the Art Equipment
Competitive Health Insurance
Beautiful Views
Company Events Generous PTO Earnings (based on service years)
Shopping + Dining
Fastest Growing Ambulance Company on INC 5000 (2018)
Fastest Growing Company (2018, 2019)
401K with Company Match
Community Involvement 
Company-Paid Life +
Long-Term Disability Insurance
Virtual + In Person Training SIM Lab + Paid Refreshers
Competitive Rates
Get To Know
A Rewarding Career
At MedTrust we aim to hire the best personnel to become the 'provider of choice' in the areas we serve. A few ways we attract top personnel include:
Flexible Schedules (8/10/12 + 24/48 shifts)
40 hours Paid Time Off per year (with years of service increases)
70% Company paid Health Insurance
Company Paid Life Insurance ($50,000) plus Long Term Disability Insurance
Advanced Education and Training- virtual, in-person, SIM Lab, plus paid refreshers that exceed requirements
Referral & Retention Bonuses
Once successfully through our 90-day probationary period, our EMS clinical field staff must complete annual skills and proficiency validations, complete assigned training, and participate in hospital-system sponsored training in key specialty areas (i.e. Pediatrics).
State of The Art
Equipment
MedTrust equips our team with the best tools so that they can focus on delivering excellent clinical care and service. Our fleet features more than 50 Type I/III Ambulances in addition to wheelchair/ambulatory vehicles. All are meticulously maintained and are equipped with Stryker XPS-Pro and Performance-Load Systems for patient comfort and crew/patient safety.
Our clinical equipment is second to none with all ALS ambulances featuring: Zoll X Series Cardiac Monitor, Zoll EMV+ Ventilator, Alaris IV Pumps and a full-range of non-controlled and controlled substances.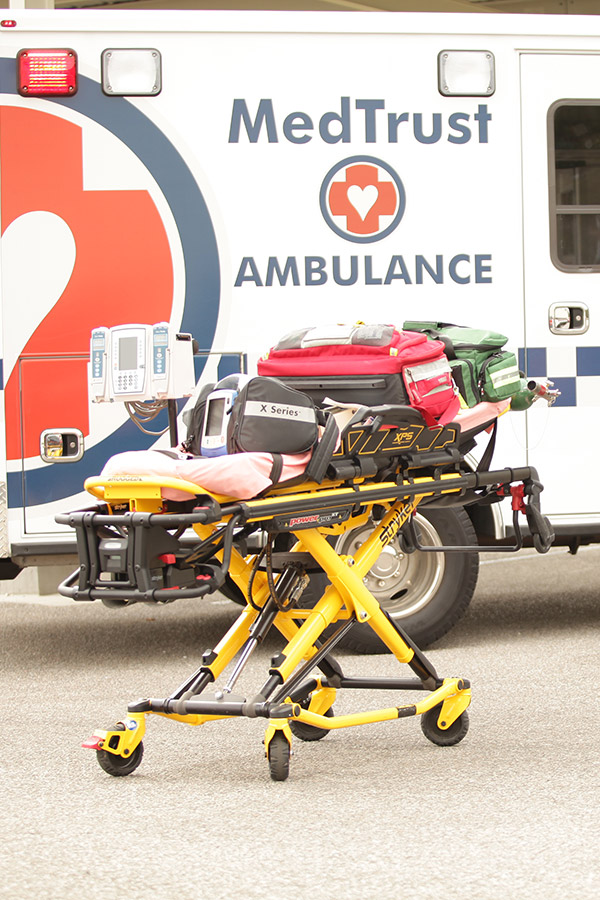 Frequently Asked Questions
How do I apply for a position with MedTrust?
What is the pay rate for a Paramedic/EMT?
Answer:
MedTrust offers extremely competitive pay and benefits packages to include: Medical/Dental/Vision, 401k with Match, PTO and Holiday Pay, Company Paid Life and Long Term Disability Insurance, Multiple elective insurances, Industry Leading Education and Training Offerings through MedTrust Academy
Does MedTrust pay for experience?
Answer:
MedTrust Compensation is based on a variety of factors including: Local Market Compensation, Years of Relevant Experience, Specialty Certifications for Critical Care, additional licensing as RT or RN
Does MedTrust hire externally for Management or Leadership opportunities?
Answer:
MedTrust has a preference for internal candidates wherever practical or possible.  That said, we are committed to getting the VERY BEST hire for every position and often extend our search nationally for that reason.
Where is MedTrust Based?
Answer:
MedTrust is based in Hanahan, SC (near Charleston) with the majority of Administrative support located at Headquarters.  Revenue Cycle/Billing, Human Resources, Finance/Accounting, QA/Compliance, and other support functions are housed at this location.  We are also proud to serve other areas of Coastal SC with additional base locations in: Walterboro, Summerville, Moncks Corner, Georgetown, Murrells Inlet, Myrtle Beach, and North Myrtle Beach.  MedTrust is proud to serve the Florida market with our first location in the Southpoint area of Jacksonville! 
Will I be able to maintain my certification at MedTrust?
Answer:
MedTrust will provide 3 to 4 times the required training needed to maintain required State/NREMT Certification and Licensing.  We offer multiple live classes, live-streaming classes, recorded classes through Medic-CE, Simulation Access through our partner facilities, and many additional clinical and case review opportunities.
Does MedTrust do 911 or "Just Inter-facility"?
Answer:
This is actually one of our favorite questions to answer.  MedTrust is the fastest growing ambulance company in the Southeast because we believe have built and continue to build a company focused on service to Health Systems/Hospitals.  We believe there is often a negative impact on inter-facility partners when a provider is diluted in their service to include 911.  Everything we do from an equipment, training, staffing, and education perspective relies on this focus: "Improving Patient Outcomes through Excellence in Mobile Healthcare"
How do I learn more about MedTrust?