How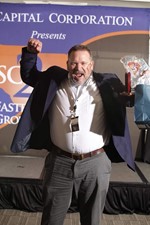 many CEOs would celebrate their employees like this?
Well, Josh Watts, CEO of MedTrust in Hanahan, SC, had no problems showing how proud he is of his team.
Why?  Because for the second time in three years they are ranked #1 on South Carolina's Top 25 Fastest Growing Companies.  
Their first award was in 2018…. a pretty big deal. 
But 2020?  When our lives as we know them, were locked down and turned upside down?  Businesses were forced to close their doors, at least for a while.  Neighbors lived in fear and uncertainty.  It seemed the world had gone, well, crazy.
This award is given based on Employee Growth and Sales/Revenue Growth.  These are important facts that attest to the strength and commitment of the company during a time when many were fighting a losing battle.
Here is the truth…..MedTrust maintained their professionalism, genuine care for their patients and most of all CALM.  These are the attributes that evoke trust.  And that is exactly what you need in times of emergencies or safe travel for a loved one.  
In the words of Watts:
 "From the Executive Team, please accept our Congratulations and sincere thanks for all of your hard work and commitment.  Through high points and valleys, I couldn't ask for a better group to work beside every day.  I also stand confident that the best days for MedTrust are in front of us!"
Thank you to all 450 Staff and Employees of MedTrust for living your motto:
Improving Patient Outcomes through Excellence in Mobile Healthcare